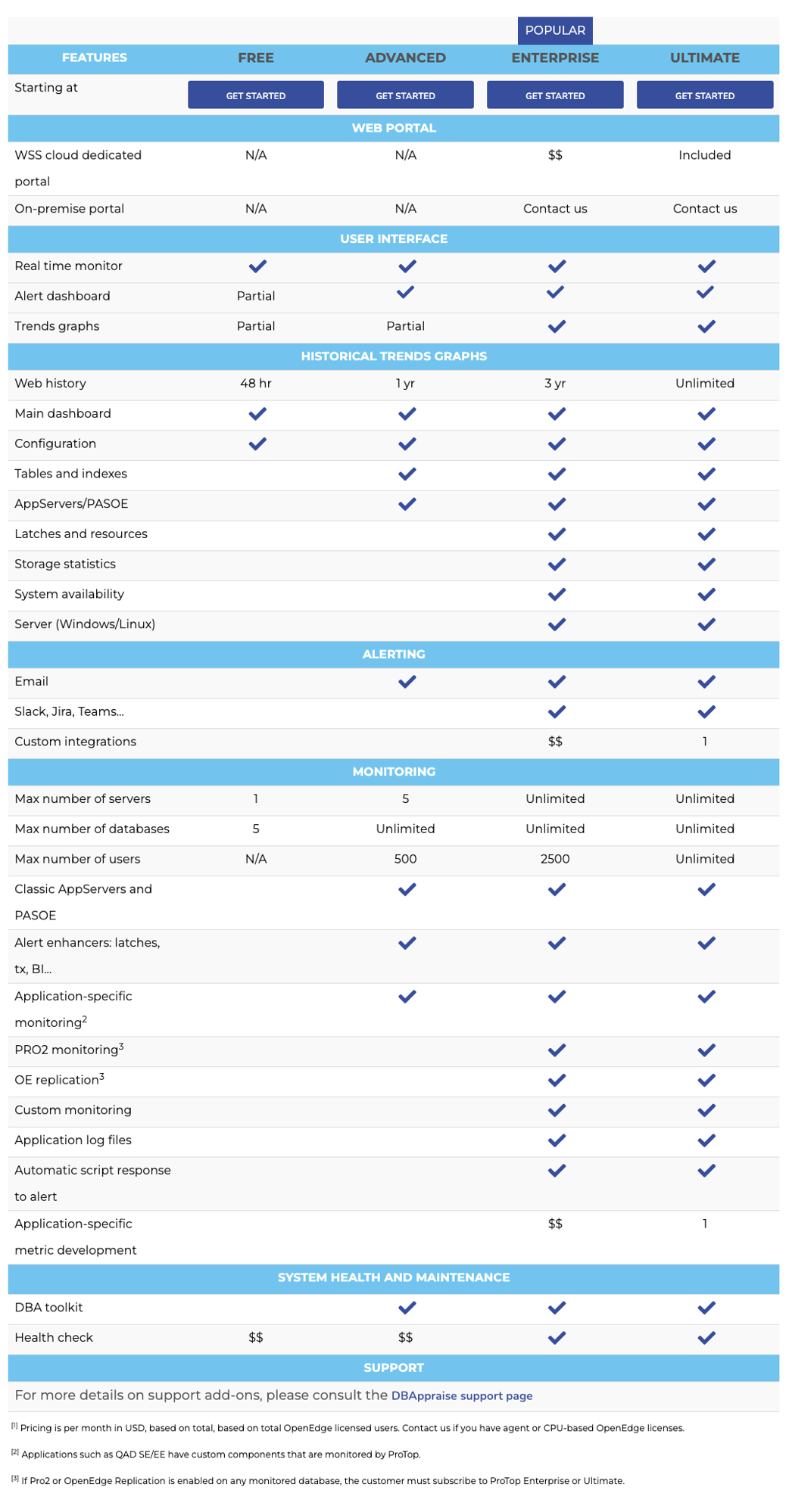 POPULAR

FEATURES

FREE

ADVANCED

ENTERPRISE

ULTIMATE

Starting at

WEB PORTAL
WSS cloud dedicated portal
N/A
N/A
$$
Included
On-premise portal
N/A
N/A
Contact us
Contact us
USER INTERFACE
Real time monitor
Alert dashboard
Partial

Trends graphs
Partial
Partial
HISTORICAL TRENDS GRAPHS
Web history
48 hr
1 yr
3 yr
Unlimited
Main dashboard
Configuration
Tables and indexes
AppServers/PASOE
Latches and resources
Storage statistics
System availability
Server (Windows/Linux)
ALERTING
Email
Slack, Jira, Teams…
Custom integrations
$$
1
MONITORING
Max number of servers
1
5
Unlimited
Unlimited
Max number of databases
5
Unlimited
Unlimited
Unlimited
Max number of users
N/A
500
2500
Unlimited
Classic AppServers and PASOE
Alert enhancers: latches, tx, BI…
Application-specific monitoring2
PRO2 monitoring3
OE replication3
Custom monitoring
Application log files
Automatic script response to alert
Application-specific metric development
$$
1
SYSTEM HEALTH AND MAINTENANCE
DBA toolkit
Health check
$$
$$
SUPPORT

For more details on support add-ons, please consult the DBAppraise support page

[1] Pricing is per month in USD, based on total, based on total OpenEdge licensed users. Contact us if you have agent or CPU-based OpenEdge licenses.
[2] Applications such as QAD SE/EE have custom components that are monitored by ProTop.
[3] If Pro2 or OpenEdge Replication is enabled on any monitored database, the customer must subscribe to ProTop Enterprise or Ultimate.